If you enjoyed the Tales from Space titles that were previously released for both the Playstation 3 and Vita, you should be thanking DrinkBox Studios for sharing their work of art to the masses.  And now with Guacamelee! making its appearance this time as a cross-buy title for the same platform, the news should be godsend.  How successful will DrinkBox Studios be in continuing this trend of providing top-notch gaming?
You assume control of a wrestler named Juan who happens to be murdered by a skeleton by the name of Carlos Calaca.  Fortunately, Juan is revived shortly afterwards and has been given special powers thanks to the mask he has been granted.  And so the adventure begins as our hero sets out to face various enemies, find Carlos to stop his evil doing, and   rescue his love. While the story portion of the game can be quite amusing, there are times when the corny factor kicks in.  Nonetheless, Guacamelee! pokes fun in various different ways, thus indicating its sense of humor.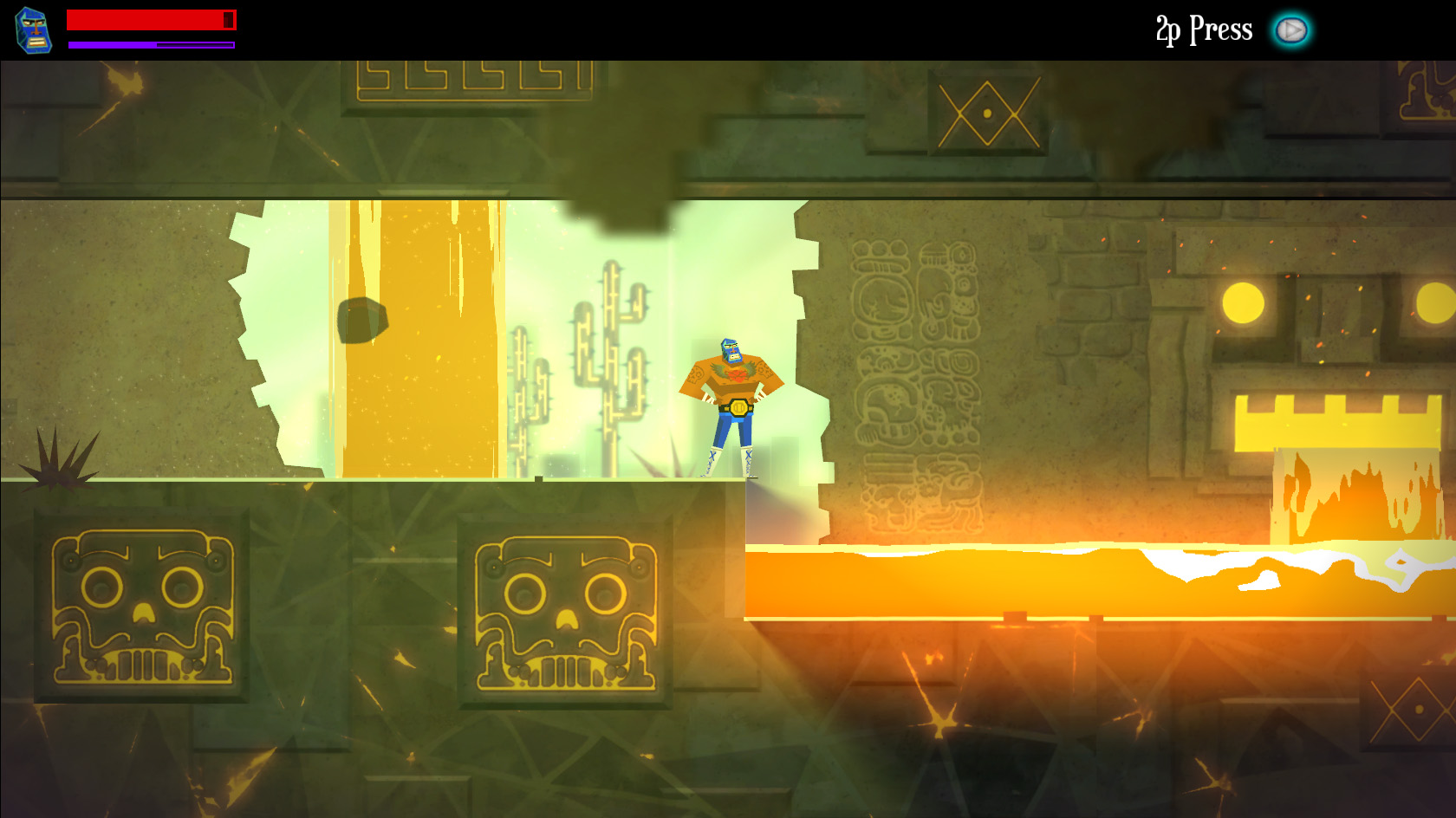 Be it on the big screen or the Vita's, the game is presented with beautiful graphics and solid, crisp coloring implemented.  The character models are well designed and the animation continues to run at a smooth rate.  This makes navigating through various environments fluid and a joy to view. Complementing this fabulous visual approach is the Mexican-themed music that plays in the background.  The whole scheme works with its intended atmosphere and setting.  And if you factor in the audio effects of the action taking place on screen, you get a perfect match of both the sound and graphics that work hand in hand with the game's overall presentation.
Guacamelee! is an open-world 2D platforming game filled with beat-em-up action.  The controls are quite responsive, and even though almost all the buttons are used during the game, the whole scheme is as easy as pie.  As you progress further in the game, your character, Juan, acquires new wrestling moves.  To explain specifically, these moves can include the ability to break through certain colors of shields that enemies hold.  In addition, specific colored blocks can also be damaged with the new-found moves, thereby leading you to new areas in the game. Throughout the game, there are numerous treasure chests that you can run into.  These include those that help to replenish your health or you special meter.  In addition, you can run into treasure chests that contain coins.  These can be used to purchase new skills and, thus, make Juan even stronger.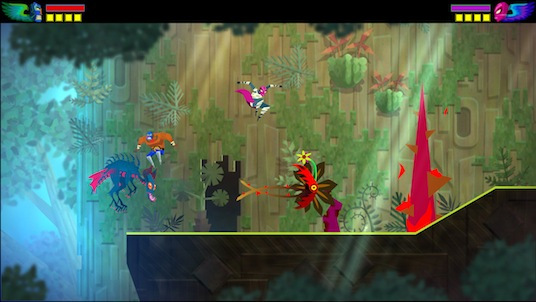 You also have the ability to switch between the living and dead dimensions, which becomes important considering that certain platforms show up depending on which dimension you are in.  Additionally, some enemies and platforms exist only in the land of the living or the land of the dead, requiring you to switch to the appropriate dimension on the fly.
Considering that Guacamelee! can be completed in a matter of approximately six hours, the whole experience can feel a bit short.  There are some replay incentives when you look at the number of side missions that you can engage in.  Along with that, you can have a friend via local co-op join in and help out during your adventure on your Playstation 3.  However, this may potentially hinder your progress as an added player only complicates things further.  Nonetheless, it's still a lot of fun for the particular multiplayer session.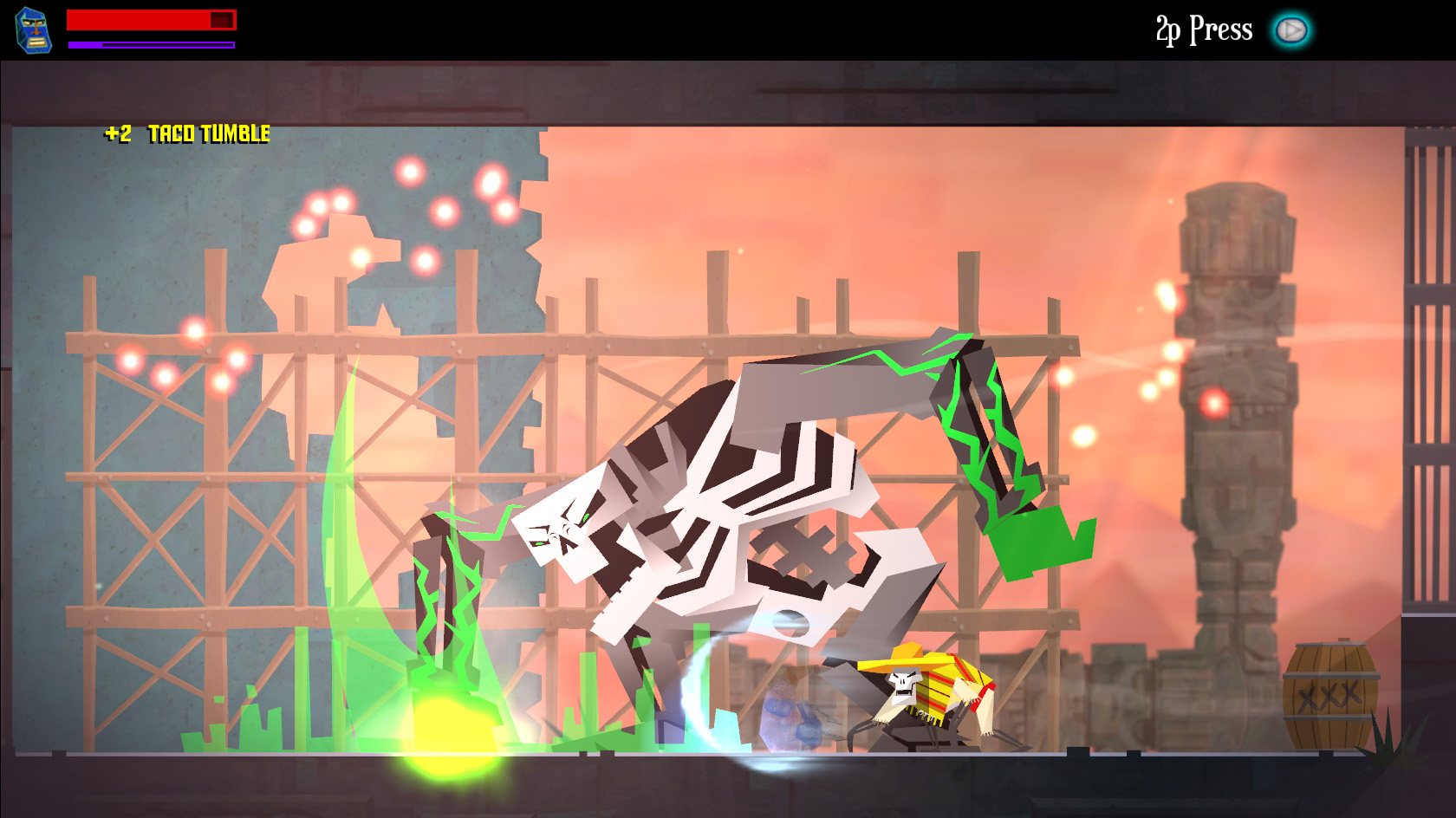 With loads of action and well-executed presentation, Guacamelee! is a worthy contender as a PSN/Vita title.  While it's worth $15, you get both versions for the price of one!  As a result, you'll be able to enjoy the game in either the comfort of your home or on the go.  In addition, cross-saves are possible which gives you more flexibility and reason to play this game through to completion.  If you enjoyed DrinkBox Studio's previous work, then Guacamelee! shouldn't be overlooked.  Pick this one up and prepare yourself for some pile-driving gameplay!