Super Monkey Ball has been rolling around and getting into some monkey business thanks to Sega's efforts in breathing life to the series for 11 years since the release of the original game. Rolling a clear ball with a monkey inside never felt more satisfying. Its charm and user-friendly gameplay helped to captivate gamers of all ages. Now once again, Sega has brought another title from this series called Super Monkey Ball: Banana Splitz specifically for the Playstation Vita.
Your objective as always is to guide a monkey inside a ball around various platforms and reach the goal without falling off. While doing so, you'll also want to collect as many bananas along the way within the time limit. And that's it! While the basis is simple enough, Super Monkey Ball: Banana Splitz still remains challenging.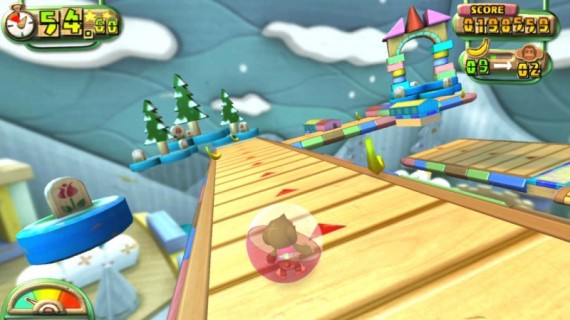 You have the choice of using either the traditional or motion controls. The latter offers an additional layer of enjoyment with a new way to control your monkey in a ball. However, some players may feel that its degree of responsiveness is insufficient. If you go with the traditional method of using the left stick to tilt the platform, you can enjoy Super Monkey Ball: Banana Splitz in its classic controller form. Either way, the concept of controlling in this game is easy to grasp.
Throughout the game, players should go bananas over the level design. Every course not only posses some difficulty in terms of completing within the allotted period of time, but it also presents interesting and thought-provoking puzzles and brain teasers. At times, Super Monkey Ball: Banana Splitz has secret exits and shortcuts, thereby encouraging players to make leaps of faith within the course. The loading times do get annoying at certain points. With more than one hundred levels packed in this Playstation Vita game, there's enough content to keep the players' eyes glued to the screen.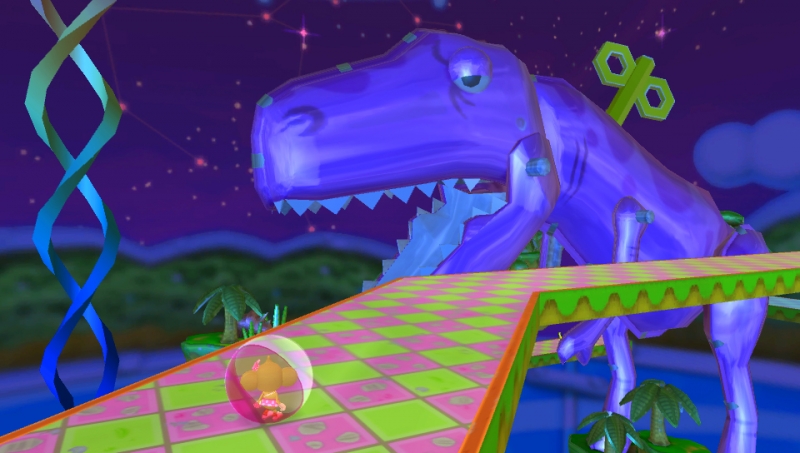 Super Monkey Ball: Banana Splitz maintains its replay value with the inclusion of the multiplayer feature, allowing up to four players to get in on the monkey business. There is a choice to play online or locally via ad-hoc. In addition, Super Monkey Ball: Banana Splitz gives you some autonomy with the ability to create stages. This is accomplished by catching a photo of an object with the Playstation Vita's camera and then performing a shaking motion. Afterwards, you can upload your creation online. While you don't directly create stages yourself, it's still an interesting feature to have. Nonetheless, this particular feature may be limited in terms of retaining its entertainment value.
Super Monkey Ball: Banana Splitz does sport a friendly yet impressive presentation. The only exception lies with how archaic the menus appear. But don't let the forefront fool you. Once you get past this, it's beauty from here. The constant frame rate running at 60fps makes the overall action run smoothly. And with all the gorgeous graphics and textures designed with the variety of crisp, vibrant colors makes this specific Playstation Vita game a hoot to look at. Additionally, the catchy music and cute sound effects help make Super Monkey Ball: Banana Splitz so amusing that it'll bring a smile to your face with its happy and upbeat personality.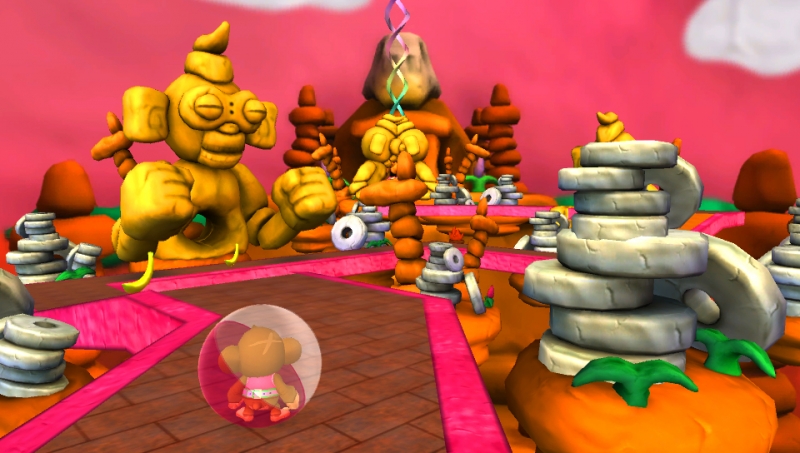 Sega continues to deliver its classic gems with gameplay that's simple enough to figure out and fun enough to keep you playing for hours. Super Monkey Ball: Banana Splitz demonstrates this point successfully. Despite a few minor issues, this is one decent Playstation Vita game that's worthy of its $29.99 price tag. If you're a fan of the Super Monkey Ball series or even Sega games themselves, then you'll go bananas over this one!