Arm yourselves with your favorite light sabers as Star Wars has entered the Zen Pinball 2 arena as an add-on available for the Playstation 3 and Vita.  Additionally, the add-on is available for Pinball F/X 2 for the Xbox 360.  Included are three tables that you can add to your pinball collection which will your senses out with its crazy effects and admirable animations.  You'll get to see all your favorite characters from the Star Wars franchise as they fight each other off.  Zen Studios has always delivered in all respects to make its pinball experience an exceptional one.  And in this case with the Star Wars add-on, the tradition still lives on.  The tie fighters that fly by definitely feels like it's out of this world.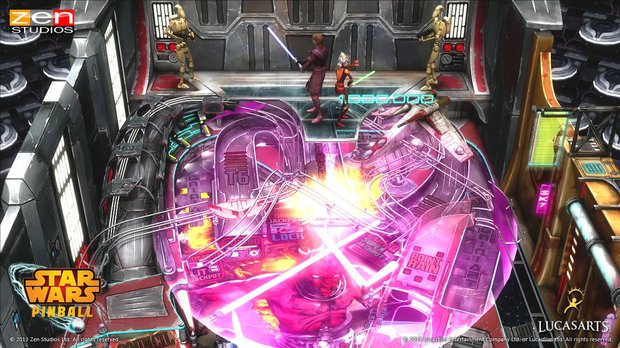 Kids of today's generation get to enjoy the world of Star Wars with the TV series, The Clone Wars.  Well now, they can enjoy the phenomena on either their television screens or portable console with one of Zen Studios' table featuring this very series.  The way the ball is brought into the table and launched is amazing.  Plus, you'll see quite an array of colors arranged in an attractive and appealing fashion.  In addition, the missions can be pretty tough to accomplish, thus prompting you to keep focused and become engrossed with its charming visuals.   The voices you hear from Yoda every time you make a combo can be a bit excessive to the point of annoyance.  Nevertheless, the music and audio effects keeps things exciting.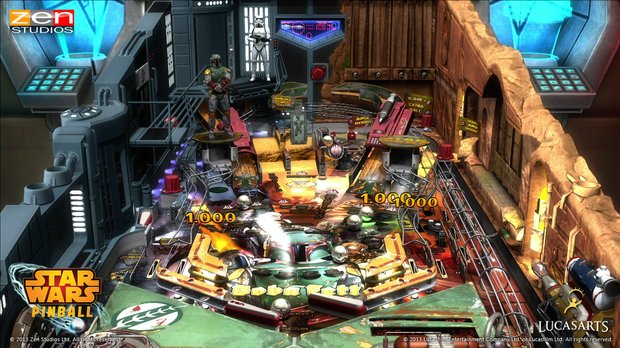 The second table packed within this Star Wars Pinball add-on is one featuring Boba Fett.  This particular one is even more challenging and would require a little expertise in the world of pinball to become successful.  For instance, there are plenty of situations where you have to aim your shots, thus testing your accuracy skills under time constraints.  However, such a challenge can potentially be un-welcomed to the novice players.  Regardless, Boba Fett's pinball table still remains outstanding and unbelievable.  You have a lot of ramps for your ball to travel along this galaxy-themed table.  Visually, it looks mighty impressive when you have two halves of the background themed in a completely different manner.  On top of that, you'll see Boba Fett himself travelling around from one spot to another.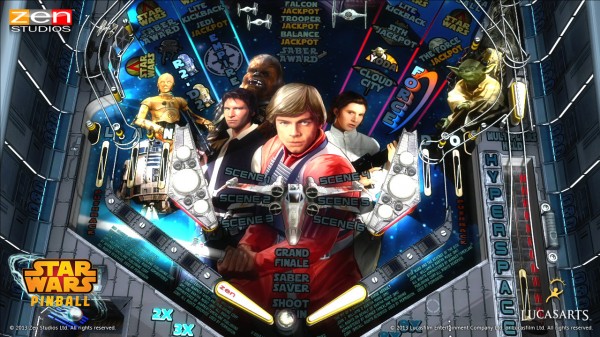 The best table within this Star Wars Pinball add-on pack is the Episode V: The Empire Strikes Back, which captures the very essence and spirit of the original Star Wars franchise.   You'll be tasked with performing numerous skill shots as well as multiple ball missions.   For instance, you'll see Darth Vadar's head which allows you the opportunity to enter into bonus rounds, granted that you aim your ball into the right spot.  As well, this pinball table will feature a battle with Darth Vader himself, which will take a lot of attempts to master.  In terms of the graphical implementations, there's a nicely-designed portrait of Luke Skywalker and his companions laid out in a tasteful and appealing fashion.  In fact, the overall look remains faithful to the Episode V: The Empire Strikes Back movie.
It should be of no surprise for an add-on from Zen Studios to be top grade in quality.  In this case, you'll be ecstatic to discover that you can live out your favorite Star Wars fantasy through this pinball experience.  You still have the great features offered from Zen Pinball as always such as the leaderboards and trophies/achievements.  And as stated before, the presentation will always leave a lasting impression.  From the Xbox Live Marketplace, you can get this add-on for 800 Microsoft points which is a typical but also fair price to pay.  But on the Playstation Network, you can get this Star Wars goodness for both the Playstation 3 and Vita just for the single price of $9.99.  Either way you go, this is a definite must-have especially for Star Wars fanatics!