Sega has a lot of classic titles that have become fan favorites.  In particular, Jet Set Radio made its first appearance back in the year 2000, but this was known as Jet Grind Radio here in the United States and Canada.  And it became a favorite and well-known Sega game on account of its gameplay and cel-shaded graphics.  Then, Jet Set Radio Future was released but only for the Xbox.  At that point onwards, there weren't any "Jet Set" love, that is, until now as the HD version has been released for both the Playstation 3 and Xbox 360 as a downloadable game. With its revival, players will get to relive and reminisce the good old Sega days once again!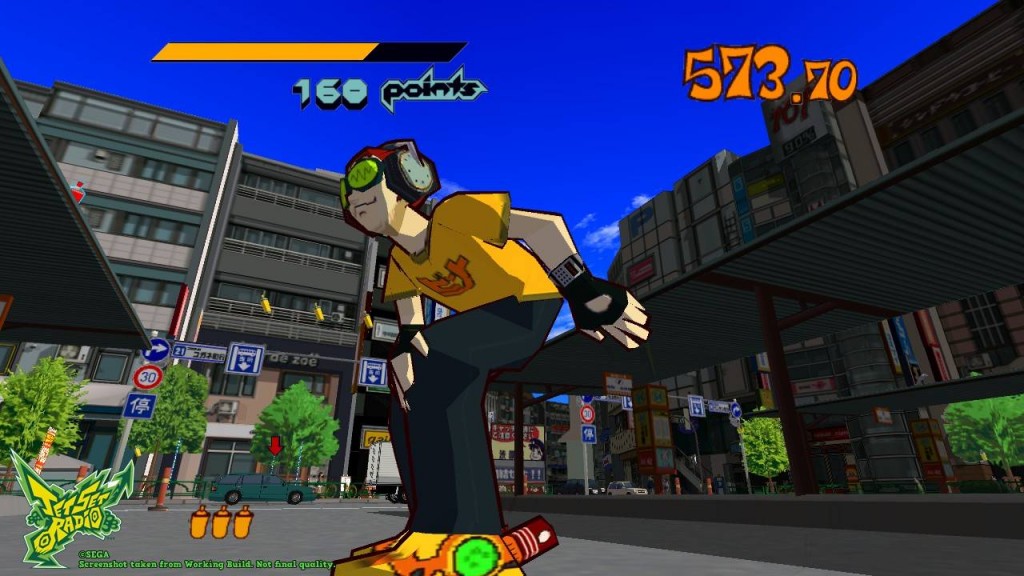 Taking place in Tokyo, the game starts off as the leader of a "rudies" gang leads them to skate all around the city spraying graffiti.  With rival gangs taking control of other parts of this city, you will attempt to enter their territory and spraying your own artwork or "tagging" with your gang's logo.  There are three main areas (Shibuya, Kogane, and Benton) each consisting of its own set of backgrounds, obstacles, and people.  The time of day also varies depending on which locale you are playing in. In these settings, you use tagging as a means of dominating rival gangs and recruiting new members. It's not an especially deep story, but it serves the game well.
In Jet Set Radio, your goal is to "tag" a number of objects and surfaces within a certain period of time.  Specifically, you'll be "tagging" the sides of the buildings, signs and cars.  And just like the games from the Tony Hawk series, you can slide off walls and grind against rails in order to pull off tricks.  While doing any of these activities, you'll have the police noticing your shenanigans.  The more you "tag," the more police that will come.  On top of that, your rival gangs will come around and spray paint over your work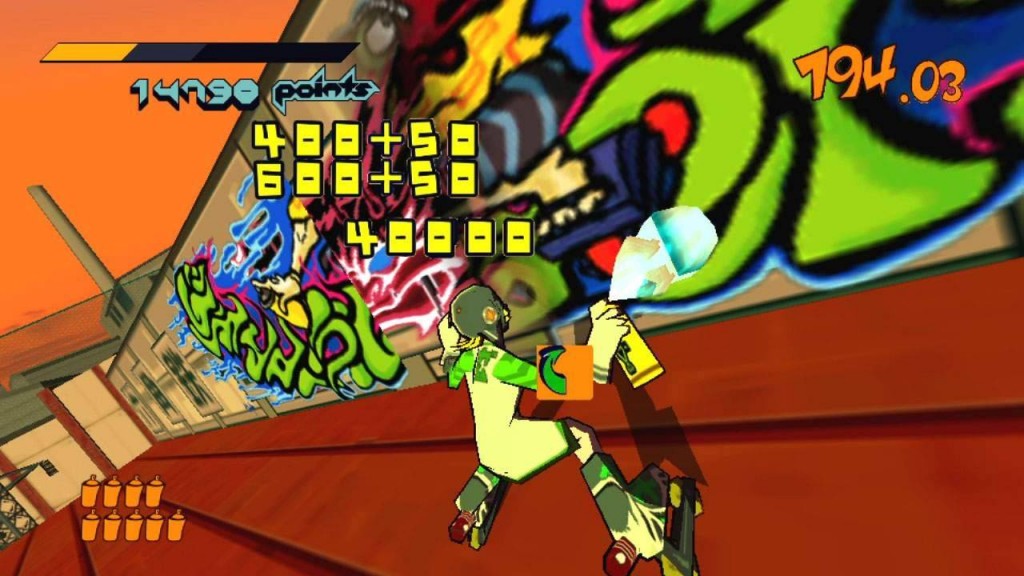 There's quite a few content here in Jet Set Radio.  As you progress further, you'll run into friends to join your gang, which are selectable as playable characters.  There are also boss stages where you'll be racing towards your opponent and jumping onto them.  While the challenges do keep your attention span, in time, all the activities you're performing could possibly start to age and seem dated in today's standards.  But for those of you who can appreciate this type of gameplay, it's a nice "skate" along memory lane.
The button layout in Jet Set Radio is laid out in almost the exact same manner as the original Dreamcast game. However this time, you can control the camera using the right analogue stick.  While it does solve some of the camera problems from the original game, it does feel a bit awkward to control in comparison to other games with a similar control scheme.  For example, there are times when the camera seems to change slowly or jitters around, which can be annoying.  Nonetheless, this is still a great feature to include.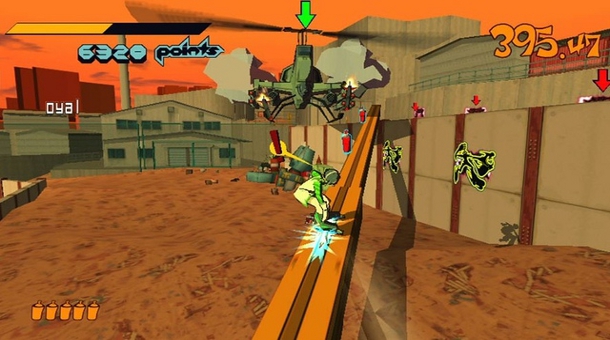 All throughout the stages in Jet Set Radio, you have a beautiful and colorful array of objects and characters presented in a cel-shaded manner.  The graphics are solid and crisp, thus leaving an impressive display appropriate and effective for high definition.  Frame rate does tend to stutter though, which is quite a surprise for a remade game. Luckily, Jet Set Radio still has the wonderfully upbeat and catchy soundtrack that comprises of rock, acid jazz, and electronic music.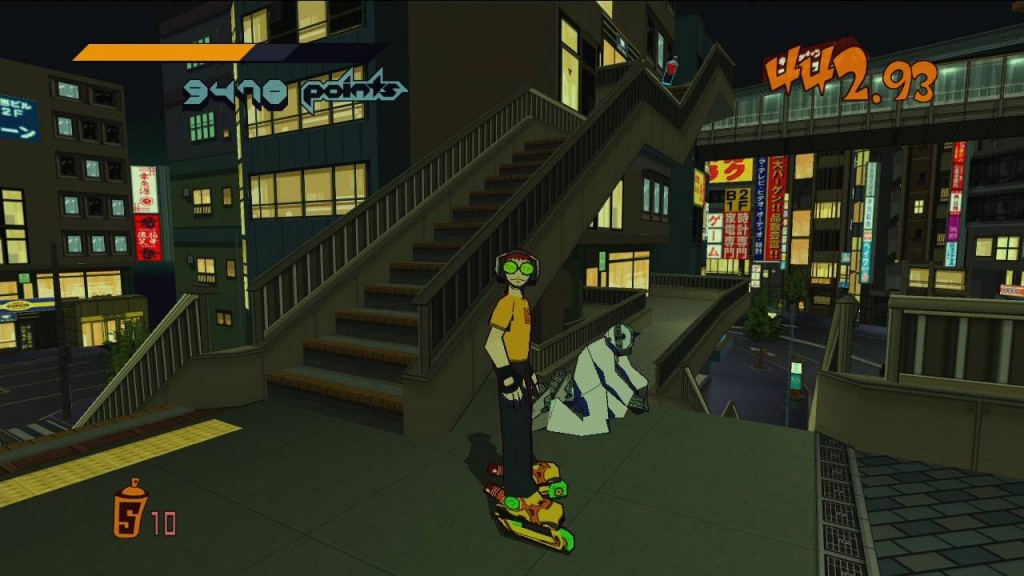 Fans of Jet Set Radio, or Jet Grind Radio, should be jumping with absolute joy over this HD revival.  While the gameplay does tend to seem archaic, it does demonstrate its worth through its beautiful and uplifting presentation.   Jet Set Radio has now skated into both the Playstation Network and Xbox Live Marketplace for $9.99 and 800 Microsoft points respectively.  At the very least, you should have a go at the demo to see if the flavor here will tingle your taste buds.