As you all know, here at jggh Games we are pretty huge Twisted Pixel fans. I even added them to our jggh Top 5 XBLA twice. Among the titles added was of course Splosion Man. Needless to say, I was a huge fan of the game and was eager to see if this new entry into the game world would be the same, better or just fall on it's face. I'm happy to say, I am not disappointed.
Ms. Splosion Man follows in the footsteps of Splosion Man in being a side scrolling 2D platformer. The first thing I noticed was the increased level of difficulty. You'll find that levels are more about solving the sometimes in your face puzzles and fast paced reactions than making your standard 3 splodes last to get somewhere. As you splode through the first level you're introduced to Ms. Splosion Man's very outgoing personality. As she makes her way through the level you are treated to the outburst of everyting from old Pop song lyrics to old movie quotes, and everything stereotypical girly thing you can think of. I was convinced at first that the increased difficulty was strictly me not being able to watch what I was doing due to laughing.
The game features 50 single player levels as well as 50 Multiplayer levels. Also Ms. Splosion Man introduces the World Map to the series. As you progress through the story you unlock more of the map level by level. On the World Map you find things like the Arcade and the Mall. The Arcade will allow you to play other Twisted Pixel games from with-in the game itself. There's also a Ms. Splosion Man pinball tabel featured in the Arcade to access the recently announced table from Zen Studios. The Mall on the other hand allows you to buy rewards with in game currency that you game from completing levels. Here you'll find things like a Premium Dashboard theme, Avatar Awards and the new game mode titled 2G1C (2 Girls 1 Controller). Things like this are pretty standard for Twisted Pixels games, but the new outlet for access is a nice touch.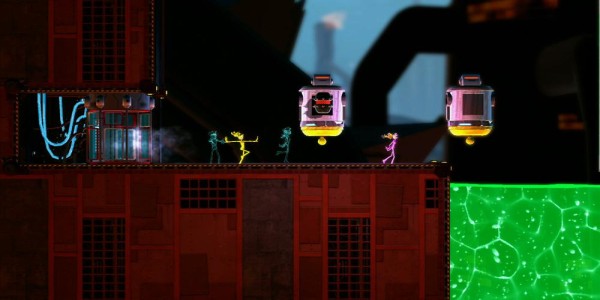 The game controls are are pretty simple and allows for anyone to pick up and play the game and only need to learn on button. This also allows for players to keep a tight control over Ms. Splosion Man while making game progress. Even while playing 2G1C where you control 2 Ms Splosions the controls remain coherent and easy to grasp. The game moves along at a steady pace and allows for backtracking and playing any past level at anytime. The game goes in stages and chapters. The end of each chapter features a boss fight and the game does a nice job of increasingly raising the difficulty of the enemies as well the difficulty of the puzzles that you may need to solve to move forward. As you progress in the game the environments do a good job of changing and keeps the game fresh. I will say that by the time you reach the end of each chapter, and you may have been stuck somewhere for a couple of minutes of a few levels, the look of each level wares then pretty quick.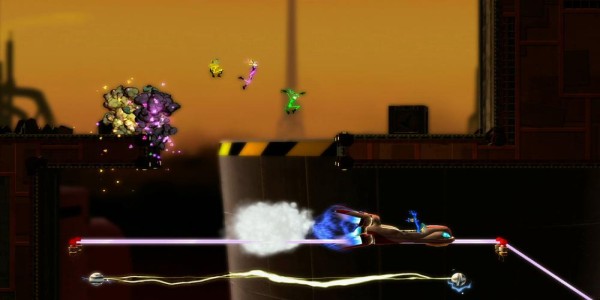 All in all, this game has great gameplay, wonderful fun humor and to be honest it has Twisted Pixel wrote all over it. For 800 MS points you really can't go wrong with this purchase. It features full on multiplayer as well as an impressive single player game. The achievements may be a little hard to come by, but having to put time into this game isn't a bad thing. Ms. Splosion Man, like other Twisted Pixel games is a great addition to the ever growing library of XBLA games that are available. I would recommend a purchase for anyone to be honest, but fans of Twisted Pixel as well as platformer fans should be exceptionally pleased with the outcome of this game.