Following in the foot steps of the previously released Marvel Tables, Zen Studios has released the Fantastic 4 Table for the Pinball FX 2 platform on XBLA and PsN. Zen Studios have really delivered on this table.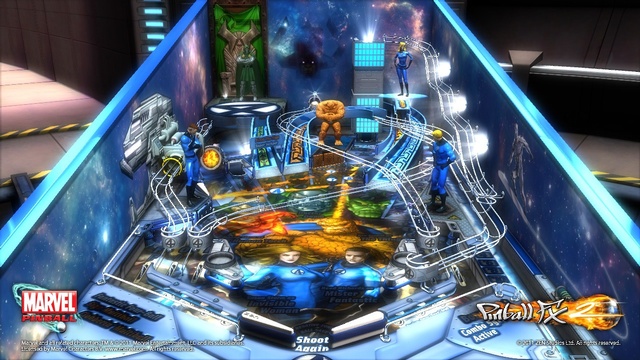 To start with the table is well laid out so even if you're less than skilled at the game itself, you still manage to gain a fair amount of points to add to your super score. Moving onto the theme elements of the table, Zen does a great job of making the table feel, look and sound like a Marvel table. With Dr Doom standing perched at the top of the table and respective members of the Fantastic 4 placed through out the table you really feel the need to do the missions on the table to see what awaits with each one. When activating missions, you are greeted with a unique situation involving each members special ability and of course the pinball itself. Rather it's catching the ball a blaze while doing the Human Torch mission of it might be Thing giving you a special gift in case you have some bad luck, it's enough to keep you wanting to play more and more.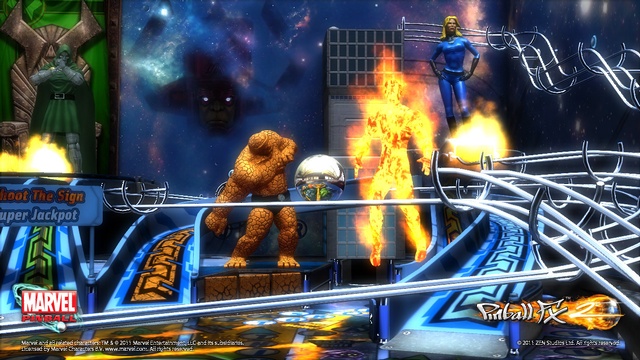 In my opinion out of all the tables that I have had the chance to play this one seems to be the best in every aspect. It seems to be the most interactive out of all the marvel tables. One of the great things I noticed on this table was the sound. All of the themed tables have great sound that goes with whatever theme is in place. Something particular about the Fantastic 4 table stuck out to me. The table features all the normal pinball main stays like multi balls and ball saves.
The tables features all the same features as previous entries. It supports multiplayer and leader boards and has separate achievements of it's own. With the way that Zen Studios continue to support the Pinball FX 2 platform, it really demands some respect for what they are trying to do. Even though in the past I have not been a great fan of all the tables that have been released.For the money that are asked for these tables it's really a great deal for any fan of the game. This Fantastic 4 table really is a huge step forward in making Pinball FX 2 one of the best downloads on the XBLA.