Zen Studios has added a taste of football with its latest add-on for the Zen Pinball 2 game in the form of the Super League Football table. Specifically, I will be looking at how this plays out on both the Playstation 3 and Vita. One thing to take notice is that purchasing this table will allow you to choose one team. Afterwards, if you wish to get more, you'll need to make additional purchases amongst the eight available.
In this add-on, you play as your chosen team over a five-game mini season. Your objective is to ensure you keep the ball within the pinball table long enough until halftime. It is then that the rules of the pinball table changes, thus entering into a multi-ball mode where you'll have to manage with four balls simultaneously. By sending your ball into alternating ramps, you'll get closer to your opponent's goal.  There are also specific moments in the game where you'll want to shoot for a goal and land tackles to save your ball.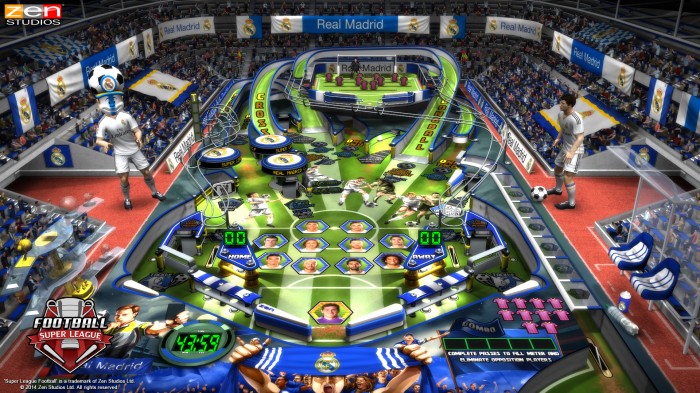 Overall, the Super League Football table add-on looks very colorful and lively. Everything from the ramps, artwork, team anthem and flippers change according to the team you choose. There's also some pretty nifty animations with the mascot as it interacts with the ball during the game. As for the audio, the announcer even makes a commentary based on what is actually happening. So you won't be getting some generic voice acting here.
Those of you who are looking for some football flavor for your pinball experience will get a "kick" out of this add-on. By just spending $2.99 within the Playstation store, you get the table for both the Playstation 3 and Vita as well as the opportunity to choose one team for keeps. You do get the chance to get more, but you'll need to fork over some more dough. And while there may not be all the teams you're looking for, you'll feel like a winner as you scream GOOOAAAAAL with your Zen Pinball 2.