November sees the release of the surprisingly anticipated Sonic: Generations, and by the way things are looking, SEGA intends to get Sonic back on track, going all out with everything fans have wanted in a Sonic game. To add to that support, SEGA have announced an amazing collector's edition for the game, even featuring an actual golden ring! Take a look at the pic below, and have a read of all that's stuffed inside.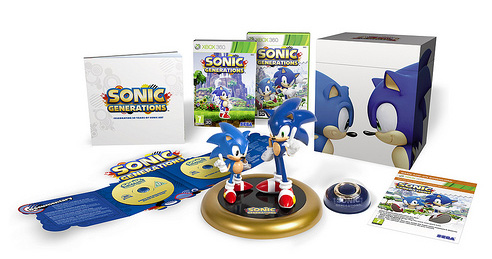 – A collectable figurine featuring both Modern and Classic Sonic on a gold ring base
– An exclusive, individually numbered commemorative "Gold Ring"
– "20 Years of Sonic Art" book, containing never before seen sketches and images from the past 20 years.
– The '20th Anniversary Sonic Soundtrack' featuring a selection of tracks handpicked by Sonic Team
– The 'History of Sonic: Birth of an Icon' documentary DVD, an exclusive collection of interviews and footage charting Sonic's life from inception through to becoming one of the most iconic characters in videogame history.
– Classic Sonic lenticular game sleeve
– A code to download exclusive DLC
No details on where it will be released yet, but judging from the PEGI sign on the box, it's safe to say it's confirmed for the UK. Hell yes.