If you have a Nintendo Switch, want one, or adamantly hate them: Then ARMS is a game on your radar. In a nutshell, ARMS is Boxing with character that have spring-loaded arms. They are crazy, different, and all have different attributes and you want to collect them all. This weekend is the online test for the game much like they did for Splatoon and Splatoon 2. There are various times that the game can be played over this weekend and next: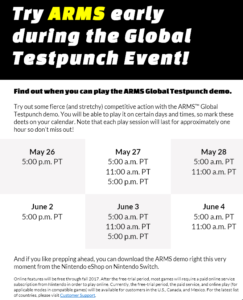 The demo allows you to play either one player or Co-Op in online multiplayer lobbies. There are a few different game modes that are picked based on how many players are available. You get to pick your character from 6 of the game's characters and use their signature ARMS. You can play either with the motion controls (Which are great once you get the hang of it!) or with a controller set up.
ARMS launches on June 16th, 2017 exclusively for Nintendo Switch.
Check out the demo if you have a Switch! Have a favorite fighter or set of ARMS? Let us know in the comments!
Here is a link to my screenshots from the demo!