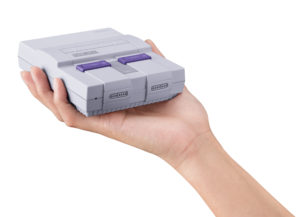 Much like the short-lived NES Classic, The Big N has announced a new mini-console to litter our desks and living rooms. The Super Nintendo Classic is a small version of the original Super Nintendo released in 1991. The mini-console will come packed with 21 games – including the never before released (officially), Star Fox 2. The SNES Classic is priced at $79.99 and will come packaged with two SNES controllers (Secret of Mana multiplayer out of the box….hell yeah!), an HDMI Cable, and a power cable. Here is a list of the 21 games:
Contra III: The Alien Wars
Donkey Kong Country
EarthBound
Final Fantasy III
F-ZERO
Kirby Super Star
Kirby's Dream Course
The Legend of Zelda: A Link to the Past
Mega Man X
Secret of Mana
Star Fox
Star Fox 2
Street Fighter II Turbo: Hyper Fighting
Super Castlevania IV
Super Ghouls 'n Ghosts
Super Mario Kart
Super Mario RPG: Legend of the Seven Stars
Super Mario World
Super Metroid
Super Punch-Out!!
Yoshi's Island
The console is due to launch on Sept. 29th this year, and Nintendo says they are producing way more than they did for the NES Mini.
Are you excited? Let us know in the comments!!